Ownership
Alisaburi Co., Ltd. has taken careful legal advice and consulted with CB Richard Ellis in structuring with the most straight forward system of home ownership available in Phuket which accords to Thai law and practice and minimizes unnecessary costs for owners or complex legal frameworks.
Freehold
All built homes will be sold to the purchaser as freehold property. Buyers at Karon have the opportunity of purchasing land plots freehold title under a registered Chanote provided they are a Thai legal entity; either a Thai person or a properly constituted Thai company. Buyers wishing to establish a Thai company should take specialist qualified legal advice. Alisaburi Co., Ltd. suggests that with a purchase price of up to US$ 350,000, a buyer may not wish to over complicate purchase by setting up a company purely to hold the property.
Leasehold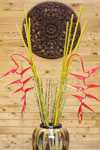 For a foreign owner who wishes the land plot registered in his name, Alisaburi Co., Ltd. will arrange for the registration of a 30 year lease register at Phuket Land Office in the name of the foreign buyer.
The purchase price will purchase a 30 year lease and two pre-paid extensions of 30 years each. Alisaburi Co., Ltd. will contract with the purchasers to lease for two further terms of 30 years each making a total of 90 years.
In addition to the purchase of the lease, Alisaburi Co., Ltd. will also sell the lease holder one share in the owning company of the property. The owning company's articles and structure will be such that any shareholder will on demand and at any time apply and be granted a new 30 year registered lease, subject to meeting, the legal and tax costs involved.
The articles of the land owning company will state that this automatic right to perpetual lease extensions may only be revoked by a 100% majority shareholders vote. Therefore, unless a shareholder votes against his own extension, he will have a secure and contracted right to continue leasehold ownership.
Property Management
Alisaburi Co., Ltd. has contracted with CB Richard Ellis to provide property management consultancy in return for which they will appoint CB Richard Ellis Thailand as the initial property managers for a term of 3 years. The contract provides performance standards for CB Richard Ellis to maintain or face dismissal on 3 month notice. At the end of the first 3 years, the appointment of a property manager will depend on a 75% majority vote of the owners of freehold and leasehold title on the estate. Provided Alisaburi Co., Ltd. has no ongoing ownership in the land plots or buildings, and they confirm that they will not be directly involved in the ongoing appointment of a property manager.
The land owning company articles will also provide that the leaseholders and property owner will be able to appoint and dismiss external property managers for the management of the estate.
Alisaburi Co., Ltd.'s objective in property management is to handover the management of the estate as soon as possible to well qualified professional property managers. We have no wish to be involved in providing property management services and state for the record that we will not be receiving any income from property management charges.
CB Richard Ellis is the one of the oldest established professional property managers in Thailand having been set up since 1988. They currently manage approximately 2.5 million sq.m. of properties in Thailand.
For further details on CB Richard Ellis, please refer to www.cbre.co.th